Click image to read Green Tea & Human Health PDF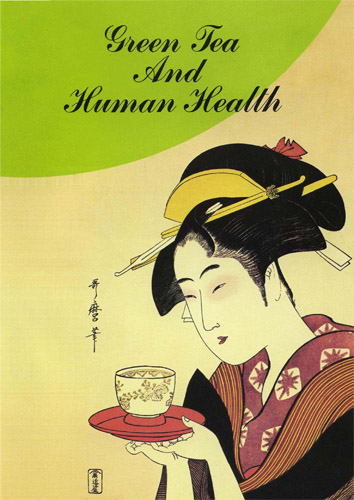 The Japanese custom of drinking green tea came from China about 800AD. The use of tea started when Buddhist monks, who had gone to China for study, returned to Japan bringing tea with them as a everyday beverage. Present in daily life from time immemorial, Japanese tea is chosen according to one's mood and the occasion. Gyokuro is the best and unique premium Japanese green tea, while Bancha is enjoyed with the family after a meal. In the Kamakura era (1191 – 1333), the monk Eisai stressed the beneficial effects of tea in his book "Maintaining Health by Drinking Tea" (1211):
"Tea is a miraculous medicine for the maintenance of health. Tea has an extraordinary power to prolong life. Anywhere a person cultivates tea, long life will follow. In ancient and modern times, tea is the elixir that creates the mountain-dwelling immortal."
Green tea has from early times been highly valued as a powerful medication. But in recent years research into the effects of green tea has progressed so far it can now provide scientific confirmation for the legendary saying that "Tea is a miraculous medicine for the maintenance of health." It is becoming increasingly clear that green tea has a broad efficacy in preventing disease.
The designation of each type of tea varies according to the part of the leaf used, the region in which it is produced and the production process. In the production process of tea – the leaves are either roasted, fermented or steamed. Apart from herbal teas, all the teas produced come from the same source, the tea tree. The leaves of Japanese green tea are steamed after harvesting, which prevents them from fermenting and changing colour. Oolong tea is made from partly fermented leaves. For black tea the leaves are left completely fermented in the shade until they turn a red colour, then are dried. Japanese green tea is recognised as the most natural of the teas and at one time was used as a natural remedy.
Select a topic below to read more
| | |
| --- | --- |
| Catechins (Main Component) | Caffeine |
| Vitamin C | Vitamin B Complex |
| y-Amino Butyric Acid (GABA) | Flavonoids |
| Polysaccharides | Fluoride |
| Vitamin E | Theanine (a kind of amino acid) |
Edible per 100g
| | | | | | | | | |
| --- | --- | --- | --- | --- | --- | --- | --- | --- |
| Green Tea | Water | Protein | Lipid | Saccharinity | Fiber | Ash | Calcium | Phosphoric Acid |
| Gyokuro | 3.1g | 29.8g | 4.1g | 32.7g | 11.1g | 6.4g | 390mg | 410mg |
| Matcha | 4.8g | 30.7g | 5.3g | 28.6g | 10.0g | 7.4g | 420mg | 350mg |
| Sencha | 4.9g | 24.0g | 4.6g | 35.2g | 10.6g | 5.4g | 440mg | 280mg |
| Fried Tea | 5.0g | 24.2g | 3.5g | 35.6g | 10.7g | 5.5g | 490mg | 250mg |
| Bancha | 4.4g | 19.7g | 4.4g | 33.5g | 19.5g | 5.5g | 740mg | 210mg |
| Houjicha | 2.2g | 18.2g | 4.8g | 39.2g | 18.7g | 5.5g | 490mg | 280mg |
| Genmaicha | 2.9g | 13.0g | 3.4g | 62.9g | 7.9g | 3.1g | 270mg | 230mg |
| Fermented Tea | | | | | | | | |
| Oolong tea | 5.4g | 19.4g | 2.8g | 39.8g | 12.4g | 5.3g | 310mg | 230mg |
| Black tea | 6.0g | 20.6g | 2.5g | 32.1g | 10.9g | 5.2g | 470mg | 320mg |
| Rosted Coffee Beans | 2.2g | 12.6g | 16.0g | 46.9g | 9.0g | 4.2g | 120mg | 170mg |
| | | | | | | | | | |
| --- | --- | --- | --- | --- | --- | --- | --- | --- | --- |
| Green Tea | Iron | Sodium | Potassium | Carotene | Vit. A, D | Vit. B1 | Vit. B2 | B1 | Vit. C |
| Gyokuro | 10.4mg | 11mg | 2 800mg | 21.000ug | 12 000IU | 0.30mg | 1.16mg | 6.0mg | 110mg |
| Matcha | 17.0mg | 6mg | 2 700mg | 29.000ug | 16 000IU | 0.60mg | 1.35mg | 4.0mg | 60mg |
| Sencha | 20.0mg | 3mg | 2 200mg | 13.000ug | 7 200IU | 0.35mg | 1.40mg | 4.0mg | 250mg |
| Fried Tea | 24.0mg | 4mg | 2 200mg | 13.000ug | 7 200IU | 0.35mg | 1.80mg | 7.0mg | 200mg |
| Bancha | 38.0mg | 4mg | 1 900mg | 14.000ug | 7 800IU | 0.25mg | 1.40mg | 5.4mg | 150mg |
| Houjicha | 12.9mg | 6mg | 1 900mg | 12.000ug | 6 700IU | 0.10mg | 0.82mg | 5.6mg | 44mg |
| Genmaicha | 10.3mg | 6mg | 960mg | 7.000ug | 3 900IU | 0.16mg | 0.71mg | 3.9mg | 75mg |
| Fermented Tea | | | | | | | | | |
| Oolong tea | 32.4mg | 7mg | 1 800mg | 15.000ug | 8 300IU | 0.13mg | 0.86mg | 5.7mg | 8mg |
| Black tea | 17.4mg | 3mg | 2 000mg | 900ug | 500IU | 0.10mg | 0.80mg | 10.0mg | 0mg |
| Rosted Coffee Beans | 4.2mg | 3mg | 2 000mg | 0ug | 0IU | 0mg | 0.12mg | 3.5mg | 0mg |
Source: Japan Tea Exporter's Association