Select a guide below for instructions
| | | | | | |
| --- | --- | --- | --- | --- | --- |
| Tea | Water Temp | Hot/Cold% | Amount | No. Cups | Infusion Time* |
| Sencha | 70 C | 90%/10% | 1-2 table spoons | 2-4 | 30-40 Seconds |
| Genmaicha | 80 C | 95%/5% | 1-2 tea spoons | 2-4 | 30-40 Seconds |
| Gyokuro | 50-60 C | 85%/15% | 1-2 tea spoons | 2-4 | 1 Minute |
| Houjicha | 100 C | 100%/0% | 1-2 tea spoons | 2-4 | 1 Minute |
| Yabukita | 50-60 C | 85%/15% | 1-2 tea spoons | 2-4 | 30-40 Seconds |
· None are prepared with boilng water 
· Never over brew 
· During a second or third infusion, only infuse for 10 seconds 
1. Measure the appropriate amount of tea leaves, and place them in the pot
2. Pour hot water at appropriate temperature into pot
3. Infuse for proper time
4. Pour all of the tea into cups
5. Make sure there is no liquid left in the pot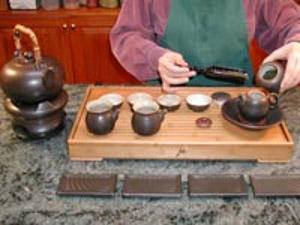 1. Place 1 teaspoon of tea for each cup being served into the tea pot.
2. Pour boiling water into the tea pot until the leaves are covered. Then pour it out into the drinking cups to clean and warm them immediately. This step is referred to as "awakening and cleaning the leaves", as it opens the leaves and prepares them for the infusion.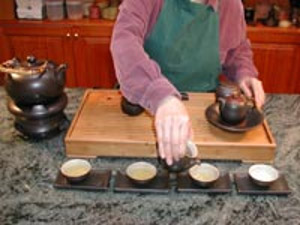 3. Add boiling water into the tea pot and infuse for 1 minute, then pour all of the tea into the serving pot.
4. Pour the tea into the drinking cups, and enjoy your tea.
1. Place 2 tea spoons of Iced Sweet Japanese Green Tea powder in to a 120cc cup.
2. Fill the cup with warm water/ cold water*.
3. Stir your tea.
4. Enjoy your tea.
*Hot milk/soy can be substituted, or it can be cooled and served cold in summer.